CAPID designers welcome Angela Radley, with A. Radley Designs to our conversation.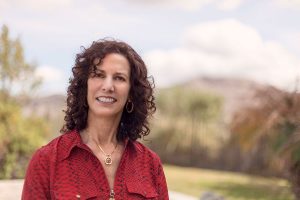 Contact her @ 818-314-9528
Email her @ angela@aradleydesigns.com
Visit her online @ www.aradleydesigns.com 
Welcome Angela,
What is your specialty or niche market?
My primary interest is remodeling and renovation. While furniture and fabrics are fun, there's nothing like working with the interior architecture to improve the function or light in a space, or transform a look.  Kitchens and bathrooms are favorite rooms to re-design because they have the biggest impact on the homeowners' lives. I also enjoy the project management aspect. Many people don't realize all the details that are involved in a project. You need to keep very organized with so many things going on simultaneously.  I come from a family of builders and developers. I believe that's why I'm comfortable working with the building trade and being involved in the process. It's exciting to work with clients to develop the design, execute it, and sense the gratification of a well-completed project.
Who is your favorite celebrity designer? 
Alexa Hampton creates the most beautiful interiors. I recently saw her at West Week at the Pacific Design Center and I picked up her book Decorating in Detail. I continue to pour over every page where she showcases her elegant yet practical design style.
Is there a current design trend that you're really loving right now?  For several years, I could not find anything in navy blue, even in clothing fashion. But when I saw images of Kate Middleton in her gorgeous dark blue dress at her engagement, I knew we'd be seeing a lot of blue soon in interiors as well.  I love the freshness of mixing different blues, solids and patterns, in fabrics, wallpaper, accessories, even lighting. Here's a bedroom designed by Sarah Richardson. Even with its vibrant prints, there's a restfulness.
Here's a photo of an Alexa Hampton-designed entry for a house in the Hamptons. She really knows how to use blue and white patterns and textures to achieve a casual yet elegant space.
Most over-used design term?
For some reason, I hate the word "bespoke". Just sounds too contrived.
What is your design philosophy?
Livable spaces are a balance of both style and comfort. If you're comfortable in your space, this contributes to your sense of well-being.  An article I read stated that, not surprisingly, people that recently remodeled or redecorated were happier and more relaxed.  I can relate to that!
What is your favorite kitchen gadget?
Not really a "kitchen" gadget per se, but this is my newest acquisition to a kitchen drawer. I was so tired of all the charger cords emanating from the outlets that I had my electrician install a power strip in a designated drawer.  All right, who has a spare drawer? I had to relocate the "stuff" inhabiting this drawer to other drawers, but it was well worth it.  Need I mention, my I.T. consultant/husband was not bothered by all the cords. Now we can charge 2 IPhones, 2 IPads, a blue tooth, another device and no one would be the wiser.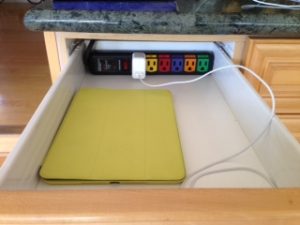 What is your guilty pleasure?
Wine and chocolate, preferably at the same time.
What is your favorite vacation spot?
When my husband and I visited Italy last year, the highlight was a pasta-making class provided by Chef Fabio Bongianni. Here's a photo of the Rome market we visited for fresh ingredients to prepare our meal. (Photo courtesy of Bob Radley.)