CAPID designers welcome Mary Crane, with Mary Crane Interior Design, ASID to the conversation.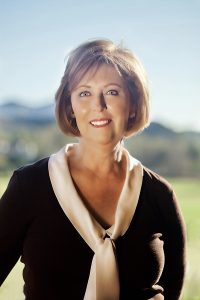 Call Mary @  805.497.1143 Email Mary @ mary@marycraneinteriordesign.com Visit Mary online @  www.marycraneinteriordesign.com
Welcome Mary,
Did you always want to be an Interior Designer?  
When I was a sophomore in college, my academics counselor told me that if I chose to major in sociology, I'd have a hard time getting a job.  When she pressed me about other interests, I shared that I had loved interior design since I was a young teenager, and was in fact, sought out as the "decorating expert" in my hall of the dorm.  She convinced me that Interior Design could be the coolest career ever, so that became my major. I have never given enough credit for my love of design to my mother, though.  She had a great eye, lovely taste, and encouraged all things creative in me—from decorating my room to having me help select the fabric and patterns when she sewed for me.  She was a great cook and entertained at the drop of a hat.  I grew up in a very busy and aesthetic household where creative pursuits were second nature.
What is your specialty or niche market?
The sociologist in me loves residential interior design—processing the wants and needs of an individual, couple, or family and then creating rooms and homes that tell their story.  It's a fascinating puzzle to put together every time:  factoring in lifestyle, personal taste, and the architectural demands or limits of the space and then to design environments that function beautifully and beg to be lived in and enjoyed.
How long have you been in the design industry?
It seems like a lifetime…I graduated with a Bachelor of Science in Interior Design in 1973.  After several years in the industry, I took and passed the ASID (American Society of Interior Designers) 2-day exam and started out on my own in 1977.
Let's get real…what is your home's secret shame?
I hate to garden, although I love plants and flowers!  I do the bare minimum outside—plus the challenge of making the exterior look the way I know it could look totally overwhelms me.
What is the one item in your home that you couldn't live without?
My two dogs….
Whose home would you give up a year's worth of mani-pedi's to decorate?
My own—you know, "the shoemaker's children"!  I have plenty of "dream rooms" dancing about in my head…but how would I decide which direction to go when I could fall in love with something entirely different next week?
What is your favorite design job ever and why?
When I was in my early 30's, an accountant who had been my client referred me to a musician whose finances he managed:  Christine McVie of Fleetwood Mac.  Her home was a vintage English Colonial in Coldwater Canyon.  Taking on that project was clearly a case of "fake it 'til you make it", and I did a lot of on-the-job resourcing .  Suddenly I had the budget to shop at fabulous showrooms and utilize artists and services I'd never previously had a call for.  Christine asked me to combine her love of Art Deco and Country English with a dash of Country French.  I used a Zuber mural in the dining room (made from antique French wood cuts), custom-colored loads of fabrics, and shopped for antiques.  Christine had an opium bed in the living room which had to be well integrated.  The music room had to have walls padded with sound board to sound proof it for late-night jam sessions.  Eventually I selected an architect to blow out the back of the house and add 400 square feet for a large kitchen remodel.  I learned more about design, client relations, and project management from that one job than any other job I ever had.  It was total immersion and an absolute blast.   The confidence and skills I gained from handling that project continue to benefit me to this day.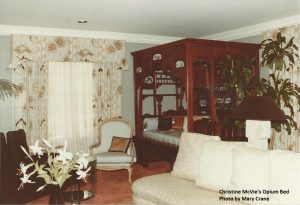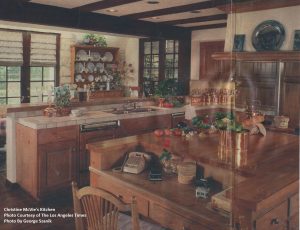 Is there a current design trend that you're really loving right now?
I love interiors which are timeless that I think will defy being identified by the year they were created.  When color and pattern are used judiciously, traditional and contemporary elements both are present, and artwork and accessories are personal and reflective of the people who use the space, timeless rooms are the result.  Rooms that are timeless never shout, "We hired a decorator!"  Instead such rooms beckon you in with subtle design elements, warmth, comfort, and ease.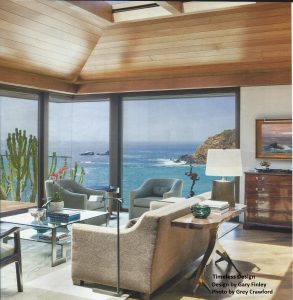 What is one design trend you wish would just go away??  Or can't believe is coming back again?
In general, I don't love all the dreary grey I see being utilized in wood tones, walls, and upholstery .  I think it will become the "trend of the decade" and will soon date the rooms where it was overused.  I find it dingy—like a thousand mice up and died all over the place.
What's the one item or feature that every room must have?
That feature would be lighting—not adequate lighting, but great lighting.  People don't seek light as much as we all desire to avoid gloom.  Every place you sit, you should be able to read.  No dark corners!  I urge my clients to allow me to introduce many forms of lighting including table lamps, sconces, bookcase lighting, and art lighting. All lighting should be on a dimmer, and that is so easy to do!  Overhead can lighting is not task lighting and is terribly unflattering, so I get rid of overhead cans when I can. Nothing really comes close to the warm pools of light and dramatic shadows created by lamps with incandescent light bulbs.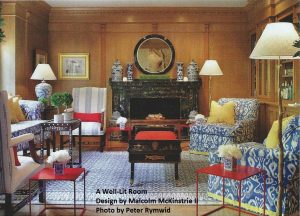 What's the best piece of design advice you give ALL your clients?
Every traditional room needs something very modern in it, and every very contemporary room needs one good antique.  Mix it up!  Tell me what you love!  Tell me your story! My favorite client is not the one with the big budget.  My favorite client is the one who is interested in the design process, is eager to learn about the choices available, and keeps a very open mind, whether it is to try a surprising paint color or an idea they would have never thought of.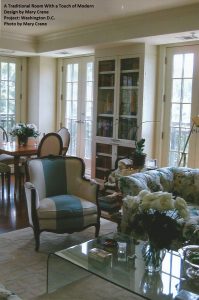 What is your design philosophy?
Good design should speak of the people who live in the spaces.  The biggest complement to a completed project is when the owners' friends and family tell them it looks wonderful…and they are dying to know where they went to find items that reflect their style so well!
What is your favorite vacation spot?
In the summertime when I can make it happen, I love going back to the small lake in northern Minnesota where my family had a cabin for almost 60 years.  I spent every summer there growing up and a dear girlfriend of mine still lives on the lake!  The memories that are precious are those of a time my family functioned at its best.  It was a place where family friends arrived almost weekly for their vacations with us, so we entertained and dined and spent hours swimming and waterskiing.  We worked hard and played hard.  Every time I set eyes on that lake for the first time each summer, I well up with tears.  I buried my dad's ashes on a hill overlooking the lake and I can still waterski pretty darn well!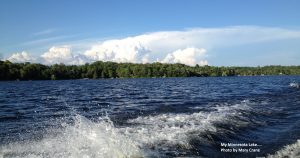 What other ways can we connect with you?  
If you want to connect with me, just give me a call!—I'd love to hear from you!