"Beyond The Acorn" Fall 2013
"Why - Bring Peace to the Design Process"
Written by Ela Lindsay, Illustrated by Beth Thayer"
The most expensive design decisions are the ones homeowners make that are wrong," says interior designer Pamela Sandall, owner of Pamela Sandall Designs, and a CAPID member. Interior designer articles are a great resource for ideas. These interior designer articles showcase the CAPID intellectual and creative capital available to their clients.
She tells the story of a couple who purchased an expensive 96-inch sofa for a small room where a poker table was already set to go. The room couldn't accommodate both pieces, resulting in a costly error, says Sandall, local chapter president of the national Interior Design Society and a member of the Conejo Association of Professional Interior Designers (CAPID)."
Brought in early to a project, a designer can help prevent you from making costly mistakes," said Wendy Weiner from Westlake Village's Wendy Weiner Interior Designs, Inc. " (Also), designers know reputable resources that will offer fair pricing and quality workmanship to stay within your budget."  - Read Complete Article
---
"Harmony - Colors combine to play a fine melody in this contemporary Craftsman-style home"
Written by Leslie Gregory Haukoos, Photography by Michael Coons"
When a home's design works, it is something like a fine piece of music with various elements playing different harmonies that combine in a richly moving and cohesive piece. There may be a single theme running throughout the home, but it is supported by slight variations in each room and interrupted by surprising notes that call attention to specific niches or corners with personal treasures on display.
This home's interior, designed for a Newbury Park couple by Monica A. Nordquist of Nordquist Design, plays like a lovely concerto—compelling, cohesive and ultimately very comfortable—which is, after all, the point of a home. Read Complete Article
---
Fireplace Face-lift
Written by Leslie Gregory Haukoos, "After" photography by VT Fine Art Photography"
The original living room fireplace in this Calabasas Oaks home featured the builder's standard plain white composite construction with a simple framed surround and a white hearth.
The homeowners wanted to make the fireplace more sophisticated and unique. Designer Kathy Love Jarvis helped then accomplish just that, having worked with them before as their taste evolved from traditional to contemporary over the years.
To dress up the surround, Jarvis brought in her "painter extraordinaire," Raul Campos Painting and Design. "His service is above and beyond that of a normal painter," she says. Read Complete Article
---
Acornucopia - Cover Up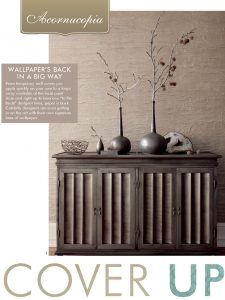 "1. Vela Taupe — sand. Vendor: Schumacher. Price: $144/yard. This sumptuous paper is great for adding texture and character. Shown here in a soft mocha, it reads much like a fabric would on a wall.  Read Complete Article