Interior Designer Julie Gerns Designed For Johnny Carson
CAPID welcomes Julie Gerns, with Power Interiors Services to the conversations
Contact her at: Powers Interior Services,  (818)707-1441
Email her at: powersinteriorservices@gmail.com
Visit her at:  www.powersinteriorservices.vpweb.com
Welcome Julie,
Did you always want to be an Interior Designer?  Or why were you drawn to design?
Interior Designer Julie Gerns is a born designer.  I officially started my career at age 6 decorating Barbie's Dreamhouse and rearranging my bedroom furniture, (much to the dismay of the two sisters I shared it with).  I can boast that I was consulted and successfully chose the wallpaper for my family's powder bath at the age of 12.  Then in the seventh grade we were asked to research and write about a career and I chose, you guessed it, interior design.  So, as a lifelong passion this profession simply is me.  I love the creativity and organization that is required to be successful in giving my client's what they want.  I look for beauty in the world and live to bring it into my client's homes.
What is your specialty or niche market?
I have worn many hats in my career, from model home designer to luxury apartment and custom home designer-specifier.  But, I am fortunate that 15 years ago I was able to purchase a well known company that specializes in custom window treatments, bedding, and upholstery.  Specializing in this end of the industry allows me to work with talented designers and discerning clients to make their homes more inviting.  These are the finishing touches that really make a difference in how people live in and feel about their homes.
How long have you been in the design industry?
I have been in the design industry for over 30 years starting right out of high school! Let's get real…what is your home's secret shame? Well,… I live with hand-me-downs and client rejects but feel that I have put things together in a creative way.
What is the one item in your home that you couldn't live without?
I couldn't live without my window coverings.  They make my home warm and effect the way I live with light and without my neighbors everyday!  I am really sad when clients forget to budget for them.
Where do you find your design inspirations?
The internet has changed the design industry and my way of approaching projects.  I typically have an initial direction from my first visit to a new client, and then simply by researching my ideas, I can share pictures and sources to enhance my presentation.  I also like my clients to research sites like Houzz and Pinterest to better communicate what they are looking for.
What is your favorite design job ever and why?
I had the amazing opportunity to work with Johnny Carson right before his untimely passing.  I had completed the Wilshire penthouse for he and his wife and it went so well that he decided he wanted to simply update his Malibu home without a lot of fuss and remodeling.  We came up with a plan to incorporate his artwork and collections of memorabilia maintaining the iconic feel of his beautiful home.  By reupholstering furniture pieces, changing window treatments and adding some new textured wall coverings, etc. this home, so dear to his heart, could be transformed without losing its retro charm and character.  I sadly was not able to complete most of the project, but just the experience of working with this American icon, was a gift to me on a personal and professional level.
Is there a current design trend that you're really loving right now?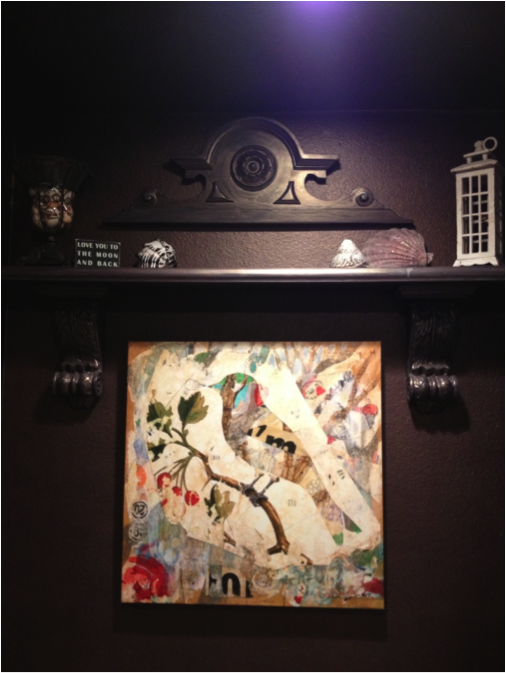 I love painted effects and work with my sister, who is a specialty artist, to add color, texture and interest to my projects.  The metallics are fun and I don't know if it's a "trend", but I love to paint rooms in a dark, rich color.  I include the ceiling and have had great results.
Most over-used design term?
"Eclectic" is overused when designers can't find another way to describe a look or style.  I prefer to make up and blend terms like "Bohemian-chic" for when we add the fun to more classic interiors by adding natural and colorful art and accessories.
Do you have a favorite "go-to" paint color right now?
Dunn Edwards Palm Beige is a favorite neutral of mine.  It is from an older line but is a perfect warm pale taupe and works with everything from gray to brown.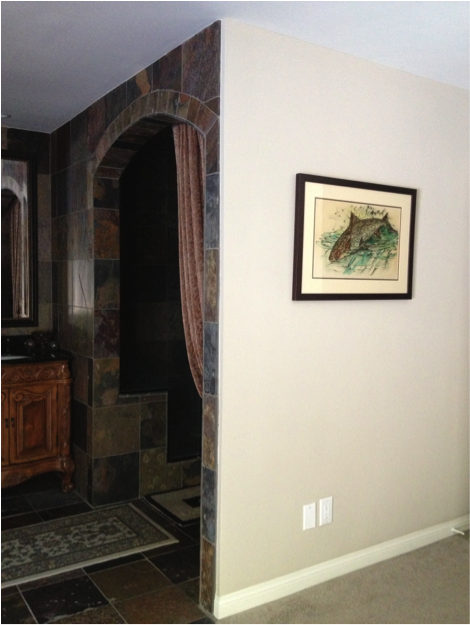 What's the one item or feature that every room must have?
Every space should have personal items that spark a wonderful memory.  I encourage my clients to purchase art and accessories as they travel or to create something themselves.  Some clients have actually found hidden artistic talents and really enjoyed being part of the process.
What's the best piece of design advice you give ALL your clients?
Make this house a home no matter what your style is.  This is your sanctuary, so organize and de-clutter to alleviate stress.
What is your design philosophy?
My philosophy is to bring a happy environment to all of my clients at every budget level.  I listen before I design.  The designer-client relationship is intimate and trust is just as important as creativity.
What is the most unique project you've ever done?
One of my most unique projects was completely remodeling the interior of a luxury motor home back when this wasn't done.  The client wanted everything marble and granite and because this home had to roll down the road we had to adhere to strict weight restrictions and a lot of research was required.  In the end, it turned out beautifully.  Wish I knew where it was now.
What is your favorite vacation spot?
I love the ocean and beach homes are my favorite.  I would love the opportunity to design a yacht soon!!!