Entertainment Design for the Kitchen:
Virginia Dudasik of VTD Design Group and Bob Sturgeon of Westside Remodeling collaborated on this Kitchen / Entertainment design specifically as an open plan for entertaining. Virginia started with the floor plan and contemplated how to create an entertainment space with limited square footage. The solution was to relocate her kitchen to the larger space that was once the family room. Then creating a comfortable lounge where the original kitchen was once positioned. The two spaces now integrate seamlessly, providing an easy flow for guests..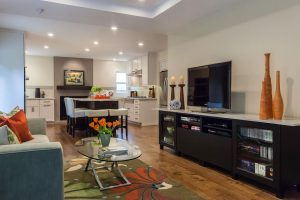 The island cabinetry is dark-stained alder, which contrasts beautifully with the white painted wall cabinets. The countertops are quartz, while the backsplash is an interesting combination of large 12 x 24 porcelain tiles in the lower portion with 3 x 12 glass tiles above. The kitchen includes a full-size built-in refrigerator, two sinks, and waste containers both in the island as well as near the sink—providing two clean-up zones. This new kitchen provides the ultimate in storage, including wine bottle storage, pull-outs in the pantry, cookbook storage, storage for silverware, and cookie sheets stored above the oven for easy access.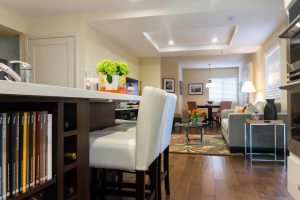 Three windows in the original family room were made smaller so the kitchen cabinets could fit above them. To increase wall space, the original sliding glass door was changed to a single lite French door. The once red-brick fireplace newly faced with porcelain tile that mimic the look of concrete, provides a welcoming atmosphere in the kitchen.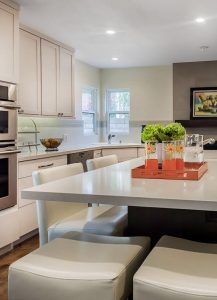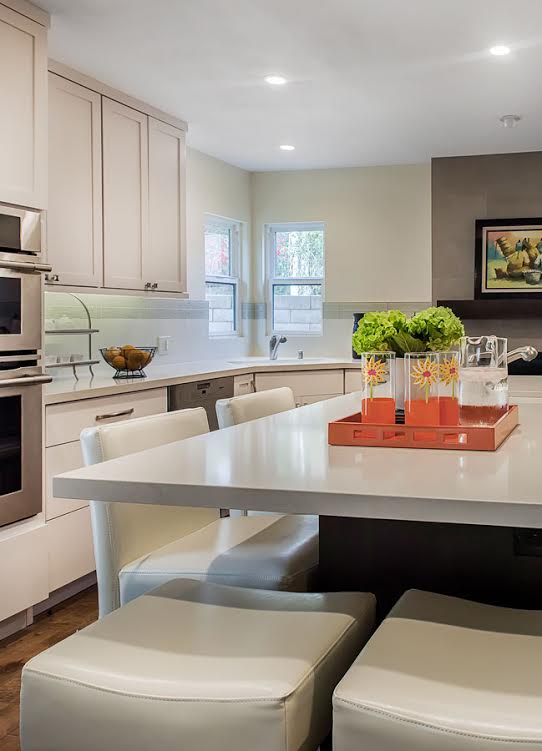 Contributed by:
Bob Sturgeon ~ Westside Remodeling: bob@westsideremodeling.com
Virginia Dudasik ~ VTD Design Group: vtddesign@msn.com