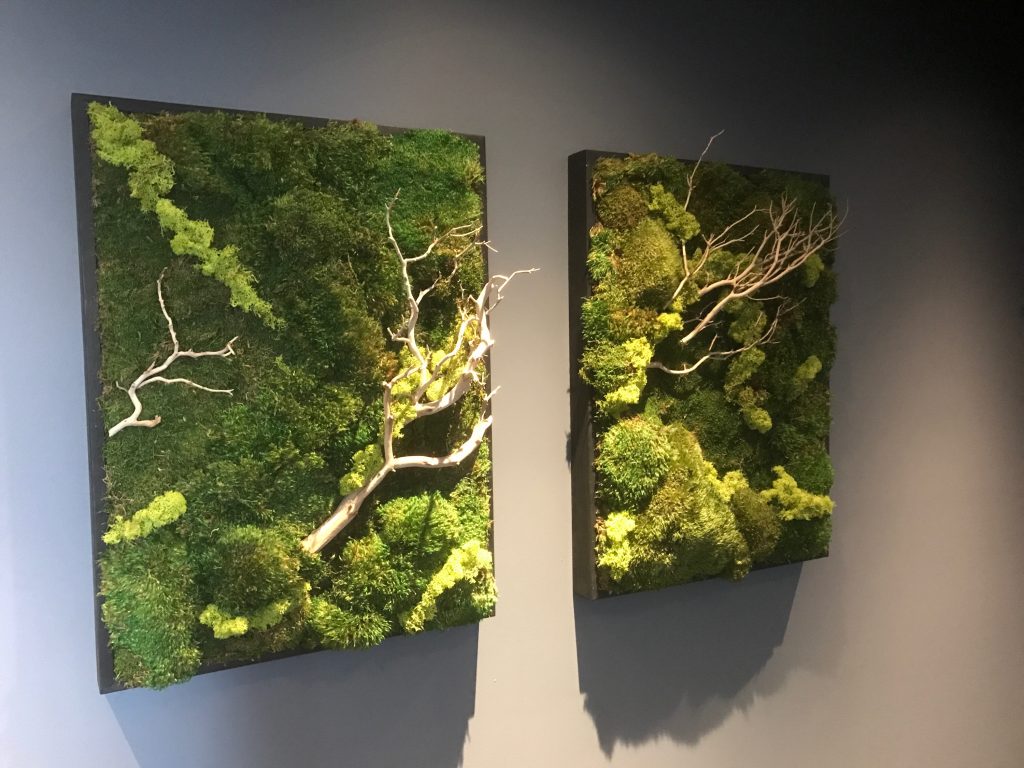 We know adding plants to an interior space can add to visual interest and make the space livelier. In recent years, living walls have become popular. However, maintenance for live plants on vertical surfaces can be an inconvenience. I have found something that would add greenery and interest to walls and does not require light or water!
Emerald Coast Plantscapes
now offers custom wall art made with real moss preserved.
I asked my friend Kevin Urquhart, owner of Emerald Coast Plantscapes for more details about this new product:
M (Michelle): Since it is preserved, I assume it doesn't attract bugs, right? 
K (Kevin): It will not attract bugs. Bugs are attracted to live plants for one of two reasons: 1) they eat the actual plant, or 2) Gnats gather when there is excessive moisture so they can breed and lay their larva. In the case of the preserved moss we use this is not an issue.
M: How about dust? Can it be vacuumed?
K: To dust I would recommend a light feather duster or condensed air held at a distance, like the kind used for electronics.
M: Are there any spaces you would NOT recommend? Restaurants? Hotels? Medical facilities? Classrooms? Are there loose pieces that can fall off?
K: If you were to use it in a restaurant I would recommend placing it as far as possible away from the kitchen as there is usually a lot of grease in the air that sticks to everything then dust sticks to the grease and creates a real mess. Other than that, the only thing I would keep it away from is direct sunlight as this could fade the color quickly. There are loose pieces that could fall if the moss is bumped or rubbed up against.
M: Anything you want to add?
K: Each piece is custom made; shape size etc. We have made them as small as 2'x2' or we can cover an entire wall. The frames are made to our specifications by a local cabinet maker and we can custom color the frames. Each piece takes on a character of its own making no two pieces are exactly alike. We have just completed a project with a piece measuring 2' X 7' in which we placed the client's metal logo right into the moss.
We can add many elements to the moss such as manzanita branches, driftwood, preserved leaves etc.
We love this new form of creative expression in botanical art. As popular as live vertical wall plantings have become, we have found there are many problems associate with living wall plants. Problems such as expensive installation, maintenance issues with watering and plants outgrowing their space creating high replacement costs. So with the preserved moss you still get a very unique botanical expression with more versatility and less cost and less upkeep.
"We are very excited about the uniqueness of the moss art and the high level of interest we are receiving for custom pieces. Of course, we are also very engaged in delivering the life, warmth and beauty of live plants and services to offices from Santa Barbara to Santa Monica."
Kevin can be reached at:kevin@ecplants.com805-480-9141ecplants.com