Written by Mary Armstrong Crane, Mary Crane Interior DesignRonald Reagan's "Western White House" in the hills near Santa Barbara, California, was a ranch house.  So is the expansive home of Ree Drummond, star of HGTV's "The Pioneer Woman" on the Food Network, who lives on a cattle ranch "in the middle of nowhere".  Likewise, the Modernist homes designed by Cliff May and those by California architect Joseph Eichler are ranch homes and are now enjoying a resurgence in today's "mid-century modern" popularity.  You may live in what you think of as a ranch house (or "rambler" or "rancher" depending on what part of the country you live in) that doesn't closely resemble any of these homes, yet they all reflect this domestic architectural style that is distinctly American.  Ranch house style fuses modernist ideas and styles with notions of the American West's iconic wide-open spaces to create an informal and casual living style.  If ranch style homes exhibit such a wide range of aesthetics, then is there such a thing as "ranch style interior design" that can be clearly defined?If you are wondering how to approach the interior design of a ranch house, understanding the history of this uniquely American architecture is key to deciding upon which design influences you may want to draw from as you design and furnish your home.
Ranch Architecture's History:  An American Story
The majority of homes we refer to as ranch have roots going as far back as the 1920's, mostly in California.  Inspired by the Spanish architecture of the 19thcentury, the original ranch homes of the 1930's were found on working ranches of the West and featured low-slung profiles, sprawling layouts, stucco walls, and wide eves.  For the next 40 years they popped up nationwide like sprouting mushrooms.  These homes featured long, low silhouettes with simple floor plans usually within a long, rectangular structure, although some larger homes were built in an "L" or "U" shape.  Starting with the housing boom that followed World War II, home designs were based on the idea that soldiers returning home would want a lifestyle that was clean and simple and family oriented.  Americans were looking for an informal style of living that embraced the outdoors and incorporated the brilliant, new, labor-saving household appliances that were flooding the marketplace.  Sliding glass doors linked indoors to out and let in as much light as possible.  The backyard and patio became additional spaces for living.  The spread of ranch style homes coincided with America's flight to the suburbs, which meant garages had to accommodate cars, most often 2 cars, and store lawn-care equipment needed to tend to the large yards surrounding the house.  By the 1950's, 9 out of 10 newly-built homes were in the new ranch style.
Although the ideal ranch homes at their best focused on open floorplans and large windows to draw in sunlight and exterior views, in many cases the trend did not deliver as the style became more ubiquitous in the late 1960's and early 70's.  Many homes built during this later period were depressingly dim with small windows in many rooms and unimaginative, chopped up floor plans.After falling out of favor in the 1980's and 90's, ranch style homes are now enjoying a renaissance, either by thoughtful remodeling or in custom-built new homes that pay homage to the style's best architectural features.  The original ranches from the mid-century boom often are situated on great pieces of property in desirable locations making these houses worth a second look. For these houses, a custom renovation can bring about amazing transformations.  The hit TV series "Fixer Upper" on HGTV is a prime example of the before and after of artful renovations of homes in Texas Hill Country, and many homes shown on the show are ranch homes in dire need of a makeover.  In all parts of the country there are cramped and dark ranch houses with dysfunctional floorplans and formal, cloistered rooms which do not take advantage of their park-like setting.
Return to the Ideal: Open and Light
If homeowners can see past the negatives, as Chip and Joanna Gaines do for their clients on "Fixer Upper", a good renovation can create the open, informal living and casual entertaining style so sought after today. Often a wall or walls can be removed between kitchen, entry, living, and dining rooms. Windows can be enlarged, and often in a one-story house, ceilings can be raised, and volume can be created by vaulting the ceilings. By bringing the classic ranch elements like maximum light and wide-open spaces back into the ranch house and thereby creating a fresh new look, we can see how history can be preserved and upgraded at the same time.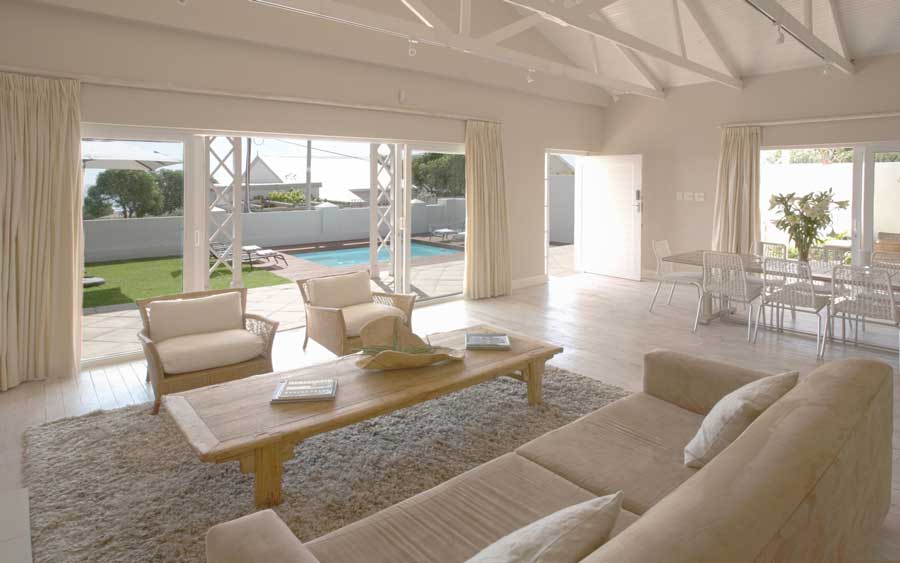 To honor the strongest virtues of this architectural style, here are several things you may be able to highlight in your interiors:
The homes were built to utilize the land they were on, so when the windows are large, and the view is good, don't detract from the beauty outside.  Go with simpler lines and more organic, neutral colors in your furniture, and let the outdoors be the focus.
A benefit of a ranch home is the seamless movement and transition within the space. Keep that in mind as you add furniture and design elements to preserve that open feeling.
The best way to bring a modern tone into your ranch-style home and utilize all available natural light is to decorate with white walls as your backdrop.  A crisp, white foundation can create that feeling of revitalization and look very current.
A ranch house is casual, relaxed, and friendly by nature.  Honor its mid-century roots with funky art, bold and vibrant color, or uniquely shaped furniture to incorporate a touch of bright quirkiness into your designs.  Even in rooms with clean lines and solid color upholstery, a little playfulness can be unexpected and lighten the mood.
Even if you've lived in this house for 30 years, you still can dress your house to make it look 20 years younger.  Refresh it by carefully editing it and removing clutter and items that no longer reflect your priorities.  Add updated colors and textures, classic staples and sleek lines to emphasize the simple architecture.
Can My Favorite Decorating Style Work in My Ranch House?
The beauty of owning a ranch is that it is like a chameleon!  There are so many styles of decorating that are very comfortable living in a ranch house.  Ranch style homes show up on farms and ranches on the plains, rustic country properties, the open Hill Country of Texas, and of course in the suburbs where their aesthetic ranges from classic mid-century icons to more ordinary tract homes.  Décor styles can head in many interesting directions in any kind of ranch home.  You may be influenced by many of the pieces of furniture and art you already own, or you may want to renovate your home with an all-new style that more closely reflects who you are and what you love today. The blank palette of a ranch can be an appropriate backdrop for any number of style choices, as you will see.
Does Your Ranch House Tell Your American Story?
Your ranch house offers a simple unadorned background in which to emphasize YOUR style.  Learn to trust your instincts about what you love and what reflects your life in an authentic way.  Some of the most interesting interiors combine a couple different styles to create something charming and unexpected. It is often that blending of different styles that reflects the true story of the people who live there.