Written by Joanne MacCallum
Shabby Chic – the beauty of imperfection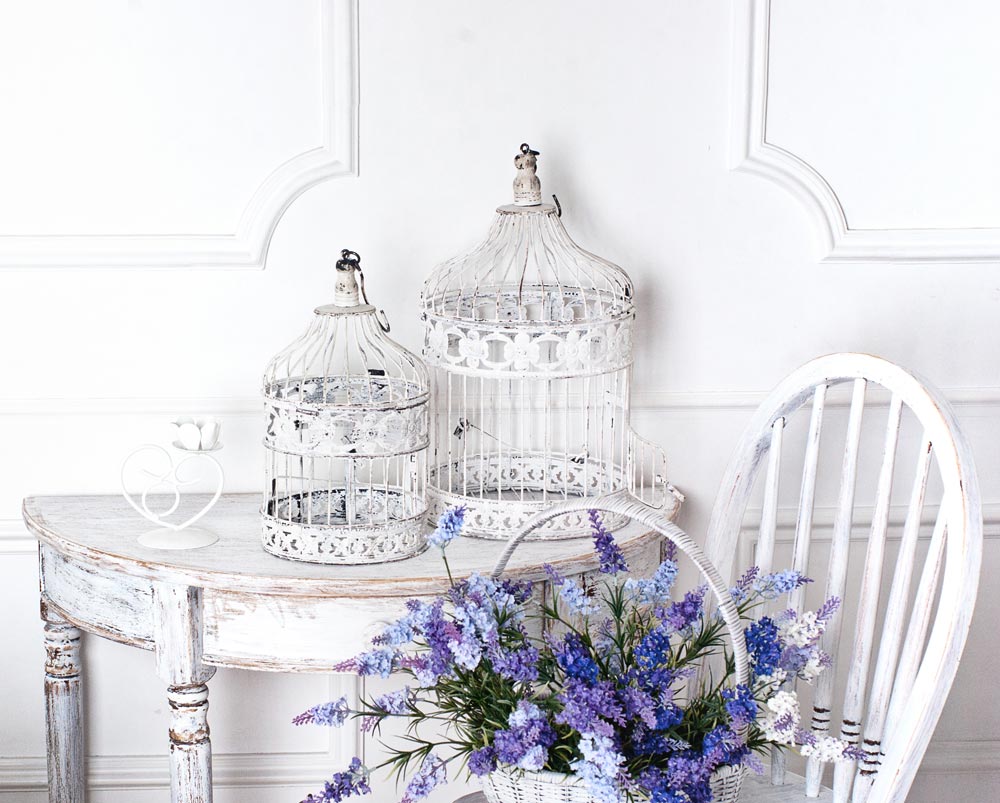 In the early 1990s, Rachel Ashwell found herself a mother of two looking for a casual style for interior design and furnishings. Shabby Chicevolved as a practical answer to family living. What is significant about this style is its ease of use: washable, portable, sensible ways of dealing with modern life. It is best know for its cotton slipcovers, faded prints, imperfect furnishings that read 'shabby' (worn and dilapidated) and 'chic' (elegant and stylish). It is a style that works well anywhere, but especially in coastal regions and climates.Shabby Chic style is boundary free. The key to achieving this look is the balance of complements and contrasts, merging gilt and grit. This style opts for a haphazard arrangement rather than a perfectly symmetrical one. Anything that appears too contrived or calculated would not be Shabby Chic. The lines are soft and the details present a well-worn décor, whether in moldings, vintage pieces, metals, or trims.
Starting light and bright
Most Shabby Chic interiors begin with white. White walls, white painted flea market treasures, white wood trims and moldings, and white cotton slipcovers. The style then layers any and all colors over the white. Incorporate neutral hues, pastels or your favorite bright colors in pillows, artwork, antique pieces, rugs, light fixtures, baskets, florals and flowers…and you have it. Metal finishes are weathered, showing rust and patina in their natural state.
Cozy layers of pattern and texture
Upholstery is slipcovered with skirts that have a ruffle, a box pleat or a kick pleat.
Pillows have welts, flanges, and shirred edges.
Textiles lend softness, warmth and color. They are generally lighter fabrics such as linen and cotton, though heavier velvets, damasks and chenilles are also used to create a wintery effect.
Texture in wall coverings is developed in wallpaper, weathered mirrors, and draperies.
Formal patterns on fabrics are not considered inviting or shabby enough for these interiors.
Furnishings – Beauty, Comfort and Function
Eating areas: Shabby Chic incorporates comfortable seating and soft lighting. Table settings feature mismatched place settings, tablecloths with lace edging, and large floral arrangements with lots of color.Bedrooms: The bed is the focal point. Vintage headboards add faded glamour. Add crisp, clean, white bedding with mixed and matched patterns in pillows and quilts. Vintage headboards, night stands and dressers add to the casual feel. Often the outdoors is introduced as a plant or a painted white wrought iron garden piece.  Always included is comfortable seating and lots of layers of blankets and throws.Bathrooms: Whether you have a small powder room or a spacious master bath, your bathroom takes on the 'shabby' style through the use of wainscoting, vintage style tiled flooring, and shelving for bottles and containers of soaps. Try colored shower and tub wall tiles with 1/4" grout lines or interesting mirrors with aged wood or metal framing.Living rooms: Decorate with muted tones, monochromatic color schemes, in subdued themes with lots of space for reading, socializing, and relaxing. Your living room or family room should be arranged in a way that is conducive to conversation. Eliminate any item that is too precious. Coffee tables should be roomy enough for books, magazines, flowers, tea cups and feet!
Accessorize with vintage treasures and time worn beauties
Lighting is of course vintage style as well.  Crystal chandeliers, intricate wrought iron Italian sconces, colored glass lamp shades, interesting vintage wicker or porcelain lamps…anything that is warm, functional and inviting is considered shabby. Best practice is that nothing really matches. Flea market finds work well in lighting.Art is often a floral painting from the mid to late Victorian era, showing large arrangements with petals scattered across the canvas. These are more often horizontal pieces, with the framing done in a weathered wood.Accessories include candles, old books, and glass or porcelain containers. Use vases that don't match with a variety of large floral arrangements.Whether you are styling a cottage for a couple or a beach retreat for a family, Shabby Chic evokes a feel of lived-in and lovely, sophisticated and cherished.  The fun of this style is that it is casual and comfortable, but also continually evolving. Trips to flea markets, finds from travel, and items found when not specifically looking for them are welcome in this style.Best resources: Shabby Chic by Rachel AshwellThe Shabby Chic Home, by Rachel Ashwell