CAPID designers welcome Pamela Sandall, with Pamela Sandall Design to the conversation.
 Call her @ 818-850-6268
Email her @  pam@pamelasandalldesign.com
Visit her:  www.pamelasandalldesign.com
Welcome Pamela,
Did you always want to be an Interior Designer? 
I like to share that I designed my first home when I was eight years old.  It was for Malibu Barbie.  She was an easy client.  Quiet.  Didn't complain.  Actually more of clothes horse than a "housie" so it worked out well.  While true, the more serious answer is that yes, creating the perfect home was sort of my life's goal.  (yes, there is a backstory!)  Now, helping clients to create the perfect nesting place is my life's dream.
How long have you been in the design industry?
I've been in the home fashions business for over 25 years.  I've been in private practice for 13 years.
Let's get real…what is your home's secret shame?
Oh ugh.  Orange Oak.  Lots and lots of orange oak.  You remember the 80's right?  When we moved into our home, my husband comment how 'pristine' it all was.  And it is.  It was a retiree's home so it looks just as perfectly peachy as it did in 1989.  Paint cans pending.
Who is your favorite celebrity designer?
The Original.  Ms. Dorothy Draper.  The Doyenne of Design.
Whose home would you give up a year's worth of mani-pedi's to decorate?
Wow.  P!NK.  Power music.  Rockin' woman.  How fun would THAT be?
Where do you find your design inspirations?
I find inspiration in my clients dreams as corny as that sounds.   I once designed a living room around a climbing structure.  Why?  Because my clients wanted their grandson to have fun when he came to visit.  THAT inspires me.
What is your favorite design job ever and why?
(see previous answer!!!)
Most over-used design term?
"Pop" of color.  Yeesh.  WAY overused.
Do you have a favorite "go-to" paint color right now?
I love Sherwin Williams Rainwashed.  Perfect shade of soft blue.  Not too green, not too grey.
What is the most unique project you've ever done?
I had the pleasure of doing a 100K square foot retirement home from the sheetroc stage.  I picked every surface, every upholstery fabric, designed several pieces of furniture, designed a library, decorated an activity lounge for each season.  It was amazing!  I even did the holiday décor for the entire building.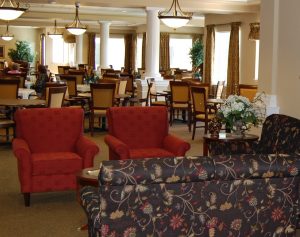 What is your favorite vacation spot?
Ahhhh Paris.  Best.  Trip.  Ever.
What other ways can we connect with you?