White vs Wood Kitchen Cabinets: by Pamela Sandall, Pamela Sandall Design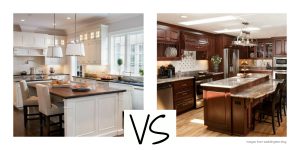 Try Googling this question, "white versus wood-tone cabinets", grab a cup of coffee and hang on! The comments, the opinions and the photographs are un-ending. In prepping for this month's article, I did some research. On a discussion board from 2008, one poster shared that white kitchens were "overdone" and "on their way out". Well, that was 9 years ago and I can safely tell you that they are NOT on their way out and have never left. White kitchens are, and continue to be the most requested, most "pinned", most preferred kitchen cabinet color.   The number one kitchen on Houzz for several years is a lovely white kitchen with light counters and backsplash. Does this mean you can't select a wood-tone? Absolutely not! The options in kitchen cabinetry are endless. The choice for cabinetry in your kitchen, and to a lesser degree in your bathroom, comes down to personal preference and lifestyle. The bigger factor, in this designer's opinion, is less about the color and more about the cohesive package of your home. And if you're interested in the kitchen color from a resale perspective, I would suggest the color of kitchen cabinets play nicely with the rest of the home. Home buyers want a neutral, but well coordinated look. Keep the style and color of the cabinets as consistent as possible throughout the home and pay attention to the style. A highly contemporary kitchen in a strictly traditional home, will look out of place and out of character. It's easy to add color to the walls of a white kitchen as virtually any shade works. The number one selection in kitchen appliances is stainless steel and white works well with stainless. White visually expands a space and gives a lighter, airier feel. If your tastes run to the traditional, you might prefer the timeless quality of white kitchen. That said, even if you love a sleek and modern kitchen, there is a white for you. And white need not be just white: you might consider creams or beige or soft grey. An antiquing glaze over a creamy hue, adds and elegant or rustic flair AND covers hand prints.
On the other hand the wood-tone kitchen has so many options to choose from. From rich and warm espresso stains to contemporary dark to warm maple, wood cabinets are still a popular option. You can select a rich wood and bring in saturated hues on the walls or allow the wood to sing and go neutral on your walls. If you've opted to buck the trend in stainless appliances and want to go black, contemporary black cabinetry is a great and modern option. For a softer compromise, a warm maple cabinet is beautiful and allows the natural wood to show without too much of that grainy look (remember orange-y oak?) that many don't like.
Another current and popular option?   Mix up your finishes.  A center island looks great in a different hue AND you can use the second wood-tone to tie together existing woods in your home such as flooring and window & door trims.
Ultimately? Your kitchen remodel will probably be the most expensive, but best remodeling investment you make on your home. Don't fall victim to trends. Make your kitchen something you love and will love for a very long time. Decide if you are traditional, cottage country or contemporary and plan accordingly. Unless you're doing a complete home remodel, your kitchen should fit the style and mood of your home. In the designer's opinion, the most important is that you love your kitchen!