Fresh inspiration at the New York Design Center
CAPID Members are always looking for fresh inspiration.  Monica Norquist shares her inspiration from a trip to New York.With the somewhat recent addition of our adopted Russian daughter, it was definitely time for a vacation for mom! Since hubby was traveling to New Jersey for training and I was invited along, I decided to make a work trip out of it and hop over to Manhattan. Like in most of my trips to New York, my first stop was the New York Design Center (NYDC) to see what was new and exciting. For those of you unfamiliar with this building, it is a 16-story, 500,000 square foot building which serves as a design resource for architects, interior designers and oth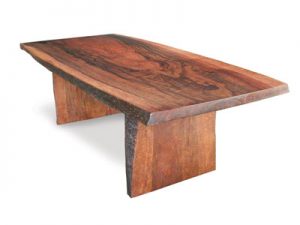 er industry professionals. It houses several hundred lines of furniture, fabric, wall covering, kitchen and bath fixtures, and decorative accessories. Here (and in other trade showrooms) we can find unique items for our clients, unavailable to the general public.Several of the showrooms at NYDC have counterparts here in Los Angeles, but it was still interesting to see the East Coast influence.  In the more urban type showrooms, you could sense the appeal to loft living in the scale, style and heights of many of the pieces being shown. One of my favorite showrooms at NYDC, Tucker Robbins, offers tables (shown above) and benches made from slabs sliced from trees so that the edges are raw. Not, "Oh man, I caught my sleeve on the table" raw, as the edges are "softened" enough for practicality's sake, yet  still maintain their rough-hewn character.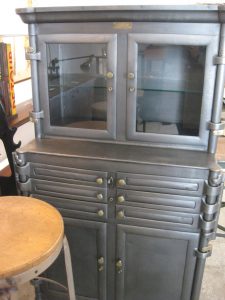 My favorite floor is the one dedicated to 1st Dibs,  "The most beautiful things on earth. The world's number one marketplace for antique, mid-century modern furniture, estate jewelry, vintage watches." I discovered so many delightful things on this floor. I have a love of mid-century modern and there were plenty of items for me to ponder. I did fall in love with a fireplace mantel, which I discovered was a prop and not for sale.Get Back Inc. caught my eye with its very interesting industrial pieces.  There were many unique pieces like this old dental cabinet (shown on the right).But by far, what held my undivided attention was this amazing dining table and chair set (shown below). It has a metal base from an old industrial piece and a glass top. This can be yours for under $30,000!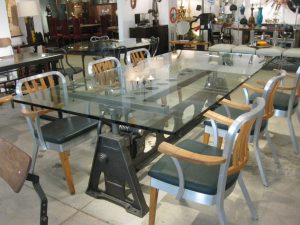 Capping the day was a leisurely stroll through the streets of New York during which I came upon a flower mart. For this suburban-raised girl I found it a bit odd to  flowers and gardening supplies lining the sidewalks. New Yorkers know how to impart a little suburban character on the City.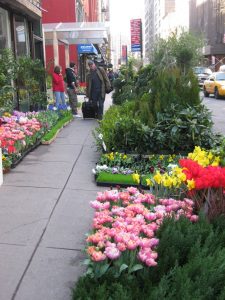 Contributor: Monica Nordquist, CAPID Member
Photos by: Monica Nordquist, CAPID Member